School District Locator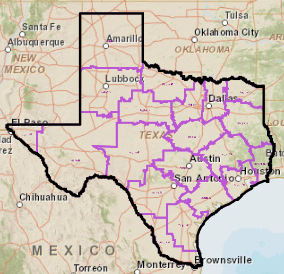 The Texas School District Locator (SDL) provides basic information for Texas schools, districts, and education service centers (ESCs) in map format. It also provides school district information, district accountability ratings, and enrollment and performance reports in text format.
Map Page
The School District Locator map page has the following search features:
Search capabilities based upon district name, district number, county, or ESC region
School district and ESC region boundaries
School type and location
Ability to zoom to or identify an individual school
Contact information for district trustees, and staff
District accountability ratings and enrollment information
School listings with address, accountability rating, and school type
Links to TEA school district reports (performance, financial, etc.)
Links to school district and ESC websites
This map was produced by the Texas Education Agency. It is for informational purposes only--it has not been prepared for, nor is it suitable for, legal or engineering purposes. Positions shown are based on information available at the time the map data was last updated. They are approximations, and are not the product of an on-the-ground survey.
Additional School District Information
Visit the Additional School District Information for selected reports from both the Texas Education Directory of School District Information (AskTED) and Texas Academic Performance Reports (TAPR) site.
AskTED is updated daily. It provides organizational information for school, district, county, and regions in Texas. TAPR provides performance reports for schools, districts, regions, and the state.
Data Download
You can use the Data Downloads page to download Texas school district boundaries and ESC regions in a popular format for geographical data called a shapefile. The downloaded ZIP file archive for each data set includes six component files for the shapefile, plus metadata in HTML and XML formats.
Additional Information
You can visit our Frequently Asked Questions page for more information about maps and district boundaries. You can also email the TEA GIS Administrator at gisadmin@tea.state.tx.us with technical questions about this application. Contact the school district if there are administrative questions on school district boundaries.