Education Service Centers
History
In 1967 the Texas Legislature directed that the State Board of Education provide, by rules and regulations, for the establishment and operation of regional Education Service Centers (ESCs). Twenty Regional Service Centers were established to provide services to school districts throughout the state. The Centers are service organizations, not regulatory arms of the Texas Education Agency, and participation by schools in services of the centers is voluntary. Chapter 8 of the Texas Education Code, enacted by the 75th Texas Legislature in 1997, specified the following purposes of ESCs: Regional Education Service Centers shall:
Assist school districts in improving student performance in each region of the system;
Enable school districts to operate more efficiently and economically; and
Implement initiatives assigned by the legislature or the commissioner.
Funding
ESCs do not possess tax levying or bonding authority and rely on grants and contracts for funding. Revenues are received from three primary sources. State funds, federal funds, and contracts with school districts.
Other Services
Contact Information
Matt Simcock, Executive Director, ESC Strategy & Support
Email: Matt.Simcock@tea.texas.gov  
Service Areas
Regional ESCs support local districts in attaining the missions, goals, and objectives set forth by the Texas Education Agency. The mission of the Texas Education Agency is "to build the capacity of the Texas public education system to provide to all students a quality education that enables them to achieve their potential and fully participate now and in the future in the social, economic, and educational opportunities of our state and nation." State-provided financial support must be used to develop, maintain, and deliver services to improve student and school district performance. Services must also be provided that:
1
Enable districts to operate more efficiently and economically
2
Assist in teaching a variety of subject areas
3
Address districts rated academically unacceptable under the state system of accreditation
4
Promote compliance with state laws and rules
Services Available
The ESCs provide school districts an array of services customized to the regional context. The ESCs deliver these services in a manner deemed appropriate. In some instances, services are delivered at the ESC and in other cases the ESC representatives provide technical assistance on-site in school districts. School districts may procure many of these services throughout the year. Mission critical services are often delivered with additional resources to further support school district beyond the initial service delivery.
Governance
Each education service center is governed by a seven-member lay board. Members of the Boards of Directors are elected by members of local district board of trustees located in each region. These boards develop policies regarding center management and operation, programs and services to be offered, and financial support. Also, boards are empowered to employ and dismiss an executive director subject to the approval of the commissioner. The commissioner has broad responsibility and authority concerning the number and location of centers, regional boundaries, and the allocation of state and federal funds among centers.
Accountability
In addition to evaluations performed by Regional Boards and Center clients, each ESC is evaluated annually by the commissioner. This evaluation includes:
an audit of the Center's finances.
a review of the Center's performance on standards and indicators established by the Texas Legislature and the Commissioner,
a review of client satisfaction regarding services provided, and
other factors deemed appropriate by the Commissioner.
 
ESCs found to be deficient based on these accountability measures are subject to sanctions by the Commissioner.
---
Education Service Centers Map
This table provides contact information for the 20 Education Service Centers (ESCs) in Texas. To see a map of the districts in each ESC region, use the Texas Education Agency's School District Locator tool. To see a map of the counties in each ESC region, reference this pdf. You can also search for ESC staff members statewide using the Texas Education Directory.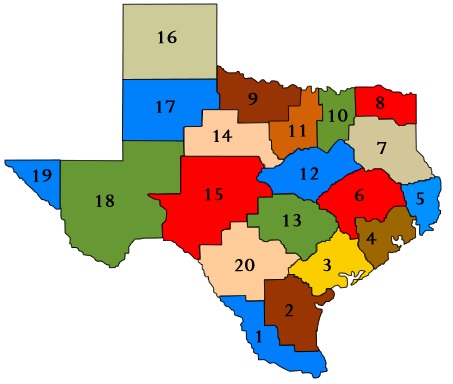 Region

Name

Address

Phone Number

Fax Number

Website

1 - Edinburg

Dr. Daniel King

1900 West Schunior Edinburg, TX 78541

(956) 984-6001

(956) 984-7655

2 – Corpus Christi

Dr. Esperanza Zendejas

209 North Water Street Corpus Christi, TX 78401

(361) 561-8400

(361) 883-3442

3 – Victoria

Mr. Morris Lyon

1905 Leary Lane Victoria, TX 77901

(361) 573-0731

(361) 576-4804

4 – Houston

Dr. Rodney Watson

7145 West Tidwell Houston, TX 77092

(713) 462-7708

(713) 744-6514

5 – Beaumont

Dr. Byron Terrier

350 Pine Street, Suite 500 Beaumont, TX 77701

(409) 951-1700

(409) 951-1800

6 – Huntsville

Mr. Michael Holland

3332 Montgomery Road Huntsville, TX 77340

(936) 435-8400

(936) 435-8484

7 – Kilgore

Mr. Todd Schneider

1909 N. Longview Street Kilgore, TX 75662

(903) 988-6700

(903) 988-6708

8 – Mount Pleasant

Dr. David W. Fitts

4845 U.S. Highway 271 N. Pittsburg, TX 75686

(903) 572-8551

(903) 575-2611

9 – Wichita Falls

Mr. Wes Pierce

301 Loop 11 Wichita Falls, TX 76306

(940) 322-6928

(940) 767-3836

10 – Richardson

Dr. Gordon Taylor

400 E. Spring Valley Road Richardson, TX. 75081

(972) 348-1700

(972) 231-3642

11 – Fort Worth

Dr. Clyde Steelman

1451 S. Cherry Lane White Settlement, TX 76108

(817) 740-3600

(817) 740-7600

12 – Waco

Dr. Jerry Maze

P. O. Box 23409 Waco, TX 76702-3409

Location: 2101 W. Loop 340, 76712

(254) 297-1212

(254) 666-0823

13 – Austin

Dr. Rich Elsasser

5701 Springdale Road Austin, TX 78723

(512) 919-5313

(512) 919-5374

14 – Abilene

Mr. Shane Fields

1850 Highway 351 Abilene, TX 79601

(325) 675-8600

(325) 675-8659

15 – San Angelo

Dr. Casey Callahan

P. O. Box 5199 San Angelo, TX 76902-5199

Location: 612 South Irene Street, 76903

(325) 658-6571

(325) 655-4823

16 – Amarillo

Dr. Tanya Larkin

5800 Bell Street Amarillo, TX 79109

(806) 677-5000

(806) 677-5001

17 – Lubbock

Dr. Kyle Wargo

1111 West Loop 289 Lubbock, TX 79416

(806) 792-4000

(806) 792-1523

18 – Midland

Dr. Dewitt Smith

P. O. Box 60580 Midland, TX 79711-0580

Location: 2811 LaForce Blvd., 79706

(432) 563-2380

(432) 567-3290

19 – El Paso

Dr. Armando Aguirre

P. O. Box 971127 El Paso, TX 79997-1127

Location: 6611 Boeing Drive, 79925

(915) 780-1919

(915) 780-6537

20 – San Antonio

Dr. Jeff Goldhorn

1314 Hines Avenue San Antonio, TX 78208

(210) 370-5200

(210) 370-5750