Special Education
Special Education in Texas
Together, we are committed to high expectations and strong systems that achieve equitable outcomes for every student with a disability.
Supplemental Special Education Services (SSES)
Supplemental Special Education Services (SSES) are on-line accounts for eligible parents/caregivers of students with significant and complex disabilities that have been impacted by COVID-19 school closures.  For more information please visit the Supplemental Special Education Services home page.
Special Education Strategic Plan
In early 2018, TEA worked with stakeholders across Texas to develop the Strategic Plan for Special Education in Texas. This plan was informed by more than 7,000 voices and lays out an ambitious set of activities aimed at dramatically improving special education programs in Texas. Click on each circle below to see TEA's progress in completing the activities laid out in the various areas within the strategic plan.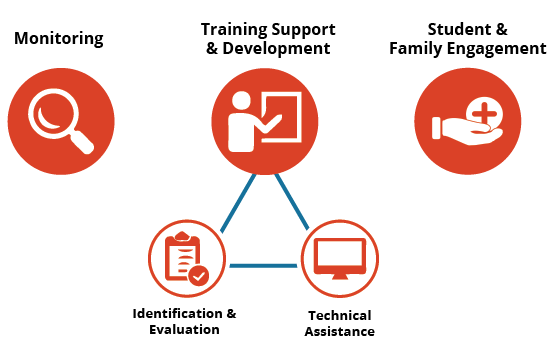 Get Involved 
Explore Our Work
TEA is committed to providing families, students, and schools with high quality supports to enable students with disabilities to achieve the highest outcomes. The links below lead to information and resources provided by TEA toward achieving that goal. 
Contact Information
Special Education or IEP-Related Questions?
Consult SPEDTex, the Texas Special Education Information Center. This is a resource backed by TEA to inform and support parents, teachers, and anyone committed to the success of children with disabilities.

Phone: 1-855-SPEDTEX   (1-855-773-3839 ) 
Website: www.spedtex.org  
Office of Special Populations and Monitoring, Department of Special Education
Monday-Friday (8:00 AM to 5:00 PM)
Phone:(512) 463-9414
Fax: (512) 463-9560
Email: sped@tea.texas.gov