STAAR Resources
General Resources | Specific Resources | Assessed Curriculum | Blueprints | Released Tests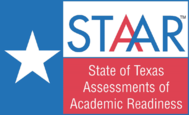 The State of Texas Assessments of Academic Readiness (STAAR®) program, implemented in spring 2012, included annual assessments for:
reading and mathematics, grades 3–8
writing at grades 4 and 7 (no longer administered as of 2021-2022)
science at grades 5 and 8
social studies at grade 8
end-of-course (EOC) assessments for English I, English II, Algebra I, Biology and U.S History.
The resources on this website provide information to familiarize Texas educators and the public with the design and format of the STAAR program. The information should help educators understand how the STAAR program measures the Texas Essential Knowledge and Skills (TEKS) curriculum standards. These resources should support, not narrow or replace, the teaching of the state-mandated TEKS curriculum.
STAAR General Resources
Use the links below to find general resources for the STAAR assessment program:
STAAR Specific Resources
The links below contain specific resources for the STAAR assessment program:
Grades 3–8 Assessments
Grades 3–5 Spanish Assessments
EOC Assessments
Preliminary 2023 STAAR Blueprints 
Preliminary 2023 STAAR Blueprints are now available. 
Resources to Support New Question Types

Special Populations
The STAAR program includes assessments that address students receiving special education services and also for English learners (ELs) who meet particular participation requirements.